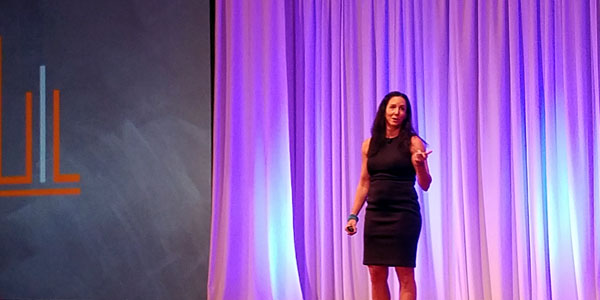 It's not just innovation, but how a company innovates, that's crucial to its success in the marketplace, LaunchStreet Founder Tamara Kleinberg said in her keynote presentation during the Wisconsin Early Stage Symposium on Wednesday at the Monona Terrace.
"Avoid the 'ER' trap: smarter, better, quicker, faster," Kleinberg said. "Better is not enough. To win, we have to be different."
She cited Kodak, Blockbuster, BlackBerry and Radio Shack as examples of companies that "rested on their success, failed to innovate and got left behind."
Kleinberg, whose Innovation Quotient Edge Assessment measures people's natural innovation strengths, defined innovation as "people, each thinking differently, about what's in front of them, to create the differentiated value."
Companies must cross the barrier of indifference and challenge assumptions or risk falling into the commodity trap.
"Taking risks in our world is important," Kleinberg said. "As entrepreneurs, that's our competitive advantage."
The symposium continues through Thursday.