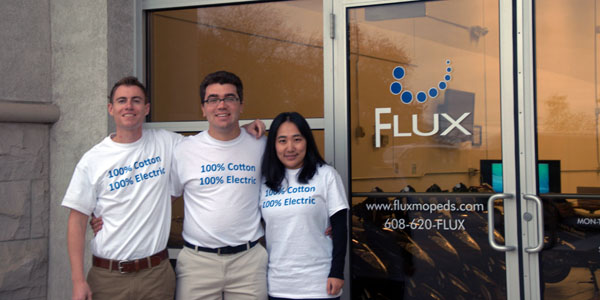 Flux has launched Pulse Hyperlocal to focus on filling the gap in short distance transportation, the company announced recently .
"We believe that small electric vehicles represent a hyperlocal lifestyle that strengthens communities, encourages economic and environmental sustainability and provides visitors an authentic experience while they are in town," Flux Mopeds CEO Matt Brueggeman said. "It is extremely exciting that through Pulse Hyperlocal, this approach is resonating not just in Madison but around the entire world."
Pulse Hyperlocal will sell Flux EMI1 electric mopeds to communities where all services are available in a 1-5 mile radius. According to Brueggeman, the idea for this service came after realizing people in Madison have difficulty getting around the Capitol Square for meetings.
Beginning in October, the company will be launching in Auckland, New Zealand, Brueggeman said.
Photo courtesy of Flux