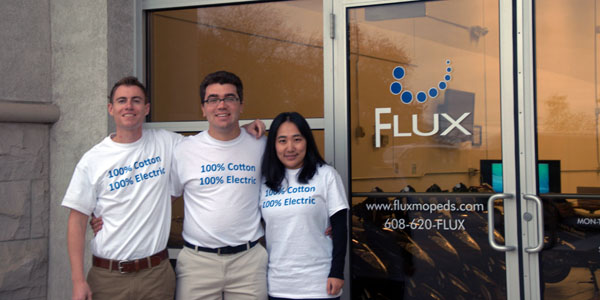 Flux, manufacturer and service provider of all-electric mopeds, recently introduced its newest moped model, the Generation 3 Flux EM1.
"The Generation 3 Flux EM1 is adaptable to a variety of different situations," Flux Co-Founder Matt Brueggeman said. "This model achieves the optimal balance of range, charge time and speed."
Compared to Flux's other two product offerings—the 2014 Flux EM1 and the 2012 Flux EM1—the Generation 3 Flux EM1 is the fastest and most energy efficient. It can reach a top speed of 38 mph and has a range of 45 miles on two batteries. Each battery takes three hours to charge.
The charging expense for the third generation electric moped is $6.30 per 1,000 miles, and the routine maintenance service is $82.48 per 5,000 miles.
Flux currently sells EM1 mopeds out of its new storefront at 1718 S. Park St., and the Generation 3 model will be available soon.The price of the Generation 3 Flux EM1 has not yet been released.
The company also announced its new Flux HYPERLOCAL business, a rental operations consultation service.
"We're primarily targeting tourist markets with a captive audience and a hyper-local style of transportation," Brueggeman said. "We are offering a plug-and-play solution that facilitates a variety of hyper-local business."
Flux will provide hyper-local businesses the new EM1 model, a mature supply chain for parts and services, comprehensive documentation and engineering support and access to the rapidly evolving technology platform.
"Essentially, we're giving a business a block of information about the EM1, they plug it into their business and then they're in charge of the marketing," Brueggeman said.
Flux is in conversation with four retailers and hopes to launch its hyper-local strategy by the end of the year, according to Brueggeman.

Photo courtesy of Flux