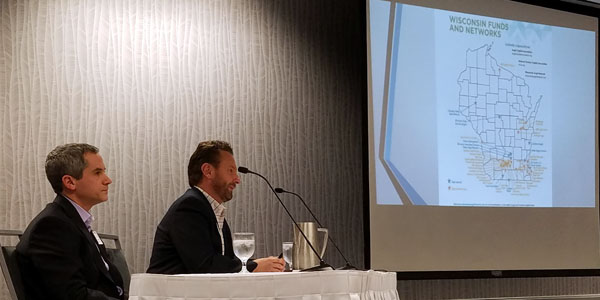 Seeing their respective industries evolve, CUNA Mutual Group and Northwestern Mutual each launched venture funds to better meet the needs of their customers, representatives of the companies said during the monthly Tech Council Innovation Network luncheon held Tuesday at the Sheraton Hotel.
According to CMFG Ventures Managing Director Brian Kaas, CUNA Mutual Group CEO Bob Trunzo "saw a wave of change on the horizon" when he took his post in 2014. CMFG Ventures invests in FinTech and InsurTech companies that can help CUNA Mutual Group meet the needs of consumers "across all life stages."
"We're a different company than we were 2-3 years ago," Kaas said.
A similar situation occurred at Northwestern Mutual, according to Craig Schedler of Northwestern Mutual Future Ventures.
"Financial services is the last disrupted industry out there, (and) we saw the dis-aggregation of Northwestern Mutual with startups offering our individual services," Schedler said. "We're figuring out how we can respond and be more client-centric."
Since launching the fund a year ago, CMFG Ventures has closed on six investments. Kaas said it prefers to invest in the $1 million to $5 million range in seed to Series B rounds. This year, it plans to invest $25 million in 7-8 companies.
Meanwhile, Northwestern Mutual Future Ventures has funded four companies, including LearnVest, which it acquired. It is investing in the $500,000 to $3 million range in Series A or B rounds.