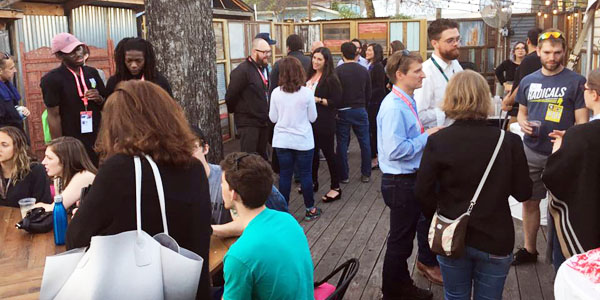 Photo courtesy of the Greater Madison Chamber of Commerce
As Madison's own startup scene continues to grow, so does its presence at SXSW.
For the third year, the Greater Madison Chamber of Chamber hosted a reception during the interactive portion of the festival. The event, held on Monday, drew more than 100 attendees, including several global industry leaders, organizers for SXSW Interactive and entrepreneurial thought leaders from organizations such as the Kauffman Foundation, according to Chamber Vice President Kevin Little.
"The connections are valuable, but so is the platform the event provides to communicate our story to a global audience," Little said, noting relationships with Steve Case (Rise of the Rest) and Richard Reeves (annual dinner speaker) that began at SXSW.
Joining Little were Chamber President Zach Brandon, who once again served as head coach of the SXSW accelerator program, as well as Chamber Board Members Matt Younkle and Mindy Giftos.
Madison startups and organizations that were represented at SXSW include Redox, the Doyenne Group and Adorable.io.
"SXSW provides a great opportunity to showcase our region, our talent and the many global discoveries being made (in Madison)," Little said. "You find yourself starting many conversations about partnership opportunities that could yield positive outcomes for Greater Madison."