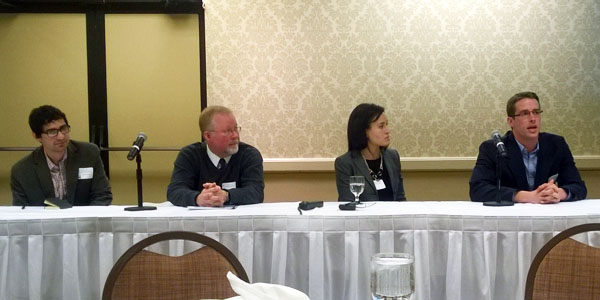 Uber and Lyft believe that because they offer rideshare services and not taxi services, they shouldn't be regulated as taxis, representatives of each company explained Tuesday at the monthly Wisconsin Innovation Network luncheon at the Sheraton Hotel.
As previously reported, the City of Madison requires public passenger drivers to be licensed by the City, operate 24 hours/day for seven days/week, have vehicles that have uniform color and markings, have a certain level of insurance and provide accessible service.
Among her arguments, Candice Taylor, government relations manager for Lyft, said that because its drivers are voluntary and Lyft currently has a small pool of drivers in Madison, the company can't be expected to provide 24-hour service.
"As we grow, we can eventually provide (24-hour service) organically," Taylor said.
Nick Anderson, general manager of Uber, felt Madison's taxi rules weren't applicable to rideshare companies.
"There are differences between rideshare companies and taxi companies," Anderson, citing areas such as cost and demographics served, said. "We don't support regulations that support entrenched interests."
Meanwhile, Ald. Scott Resnick, also at the luncheon, hopes he and his fellow city council members can find a middle ground.
"We need to have a conversation, and not ignore the taxi companies and not ignore Uber and Lyft," Resnick said. "I know there are many opinions on this issue."
Resnick expects the process to create new regulations to take 3-4 months and promises "a lot of discussion."